Some stories just amaze us, but only a few impact our everyday life. Shahrukh Khan's story would be one of them. The Bollywood star Shahrukh Khan didn't have the ideal life before his fame. His parents didn't have enough money to take him to the theater and millions of people come to the theaters to watch him today. His life is indeed a rags-to-riches story. We, as humans, should take inspiration from anyone and everyone around us. So here are a few lessons from Shahrukh Khan's life.
10. Your Attitude is What Matters:

Failure, disgrace, and depression are all a part of life, but it our attitude towards them that really matters. Shah Rukh Khan dealt with failure a lot, but that failure is what he used to his advantage. He was struck with depression once, but he came out of it with a much brighter and clearer goal.
9. If You Work Hard, Life Will Come Back at You:

Credits: omgsrk
At his young age, Khan's parents didn't have money to send him to the theaters to watch a movie but hey! He had a dream in him. That dream in his heart sparked an explosion called success. He didn't just dream, he worked for it. He suffered failures at his start of the career, but perseveres got him places he didn't even imagine.
Learn Also: 18 Actors Have Changed Since Their First Roles
8. There is Nothing Such as Normal, it's Lifeless:

We all hear people say, "I want to live a normal life," but what they do not understand that a normal life is a lifeless life. Do not let your insanity be hidden from the world. Shahrukh Khan wasn't always supported by his family in this path he took, but the voice in him wasn't letting him rest.
7. Be Grateful But Not Satisfied:

Shahrukh Khan tells us to be grateful for every blessing we have, but not be satisfied with them. Letting dreams only be dreams wouldn't get you anywhere, so don't be satisfied with what you have and never stop moving forward. Khan was grateful even in the downhill part of his life but he didn't hesitate to move forward. That is a very important lesson we all need to learn.
6. Preserve Through and Try Again (Shahrukh Khan Biography):

A determination is the most important aspect of success. Failure should not be able to put you down, but it should be a teacher and tell you to move upward and onward. The gunpowder of your dreams awaits your spark, but it won't happen if you put your match inside.
5. You are The Only Person You Need to Believe in:

Sometimes, even your closest friends stop believing in you and your dreams, but ONLY YOU are required to make your dreams possible. Believe and just go for it, you are in control of your life! Now, this is a man who's Biography(Shahrukh Khan Biography) is filled with unquestionable struggle.
4. Humor Can Make Your Life Much Easier:

We all know that life is not all sunshine and rainbows, but humor is something that can actually help you go through it. Even in the darkest of times, humor will make it all sound like a joke, and that's a good thing. Without humor, life would mostly be dull. Always manage a dose of good humor.
"Learn to laugh at yourself and don't take yourself seriously no matter what you become. It makes you braver and changes your perspective. Without a sense of humor, the world will be a dull, dreary place. Humor is the only ticket to being childlike and innocent." –King Khan
3. The 4 H's Could Guide You:

Shahrukh Khan tells us the 4 H's we need to be successful. He quotes:-
"You must respect your seniors, but never get intimidated by them. Winning should be a habit, not an option. The four Hs are important when you play to win — HONESTY, HUMOR, HARD WORK and a bit of HARAAMIPAN "
Ready to Visit: 10 Qualities That Can Make Guys More Attractive
2. Life is Always Balanced: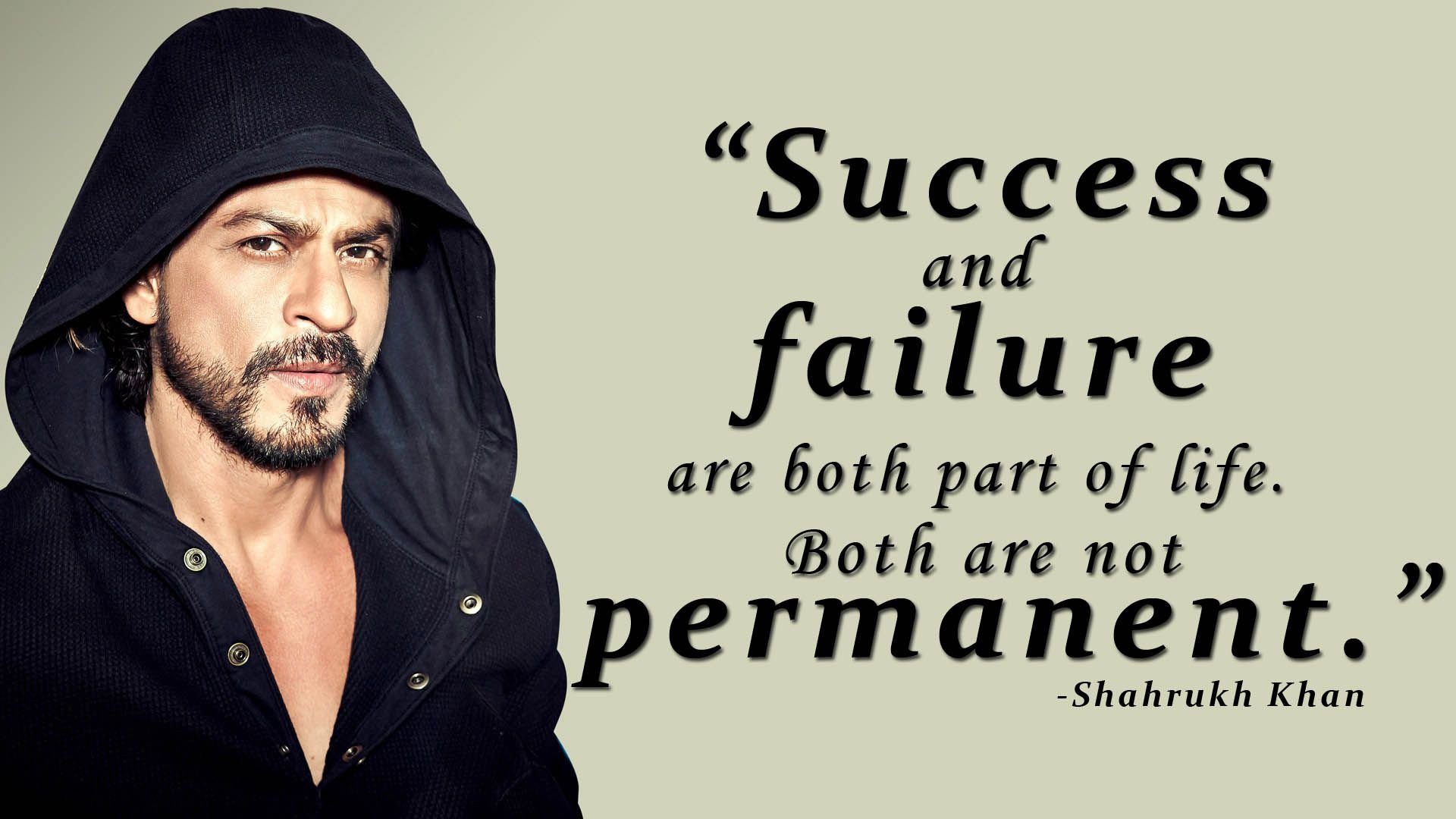 Life isn't inclined towards one end, it's like a balanced see-saw. So stop whining and start moving in the direction YOU want to head towards. Shahrukh Khan had ups and downs just like us, but he never let them confuse him from where & what he actually was aiming for. That is what we learn from "Shahrukh Khan biography".
1. You Never Know What Choice Would Take You High:

Khan's expectations were sometimes exceeded and sometimes left him disappointed. He couldn't predict which movie would be a popular hit and which one wouldn't and that itself has a lesson for us. We would never be able to predict what job, what choice or what project would get us to the top. Life happens when you persevere no matter what. So just keep doing what you want to achieve and keep going towards dreams, one of them will get you somewhere high. (Shahrukh Khan Biography)
Also check out: Famous Companies