Some of the best anime that have been created have been inspired by some brilliant Light Novels. They have been the source of some truly magical experiences we've all had through anime. Anime like Sword Art Online and Date a Live have been created using their light novels.
Just like Manga, Light Novels are something very purely Japanese (while they have been written in other Asian countries as well), they remain an invention of the Japanese. However, unlike manga, they are known for their productive and interesting story lines, lacking the many plot holes that most manga do.
This is because a light novel is written a bit like an average American novel you might read. It has a minimum word limit of 50,000 words, but unlike average American novels for young adults, it is illustrated in an anime style.
So, a Light Novel has all the essence and professionalism of a novel and all the action and fun that a Manga has.
Best websites to read Light novels:
In the spirit of trying something new, let us help you find the top 10 website to read the latest Light Novels on:
1. Novel Archive:
The very best website to read light novels on is most definitely NovelArchive. They have an easy user interface, they have a huge collection of light novels, both new and old. They are a functioning website and they update new novels everyday.
They have expert translators and you can read each and every novel in at least 4 different languages. Their user interface is perfect for reading and the font the use just make reading manga like solo leveling and Cultivation Chat Group all the more worth it!
The website also had a very user-friendly approach when it comes to keeping your own bookmarks. You can even make your own personal list.
2. WuxiaWorld: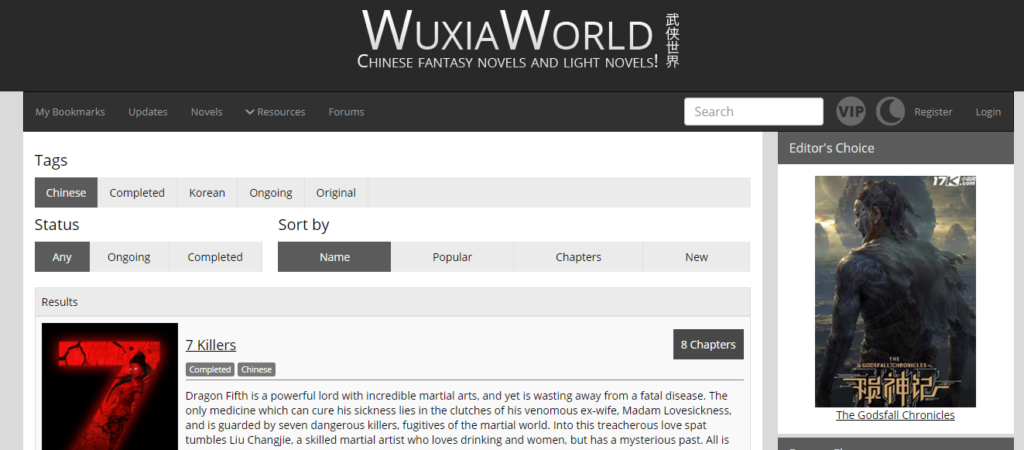 WuxiaWorld is a fairly new website but has received a lot of love for their fast updates and the amount of novels that are available on their site.
3. Baka-Tsuki:

Baka Tsuki is a community where people translate light novels into English and various other languages in the WIKI format.
Baka Tsuki has been around for a good long time and its community has grown and become of the largest hubs of translated Light novels on the web.
And the best part is that all the Light Novels available on the website are totally free. You can read the content on the website and you can even offer your own translation to your favorite light novels if you like you've got it in you.
Baka-Tsuki's Light Novel bank, as we like to call it, is growing larger and larger day by day. Drop by and start reading a new light novel today! Check them out Here
4. NanoDesu Translations:

NanoDesu Translations is a community where elite translators come together and translate some of the best light novels for people around the world to read. Check them out here
They have a large list of translated light novels available on their website. They have strict translation process and have a long merit base placement test through which they employ new translators to translate their content. Moreover, their entire store of light novels is freely available to the community to read for free.
5. dotNOVEL:

dotNOVEL is a different kind of website from the other two we've mentioned in this. Here you can download your favourite light novel as well as read it on your device. However, if you prefer dotNOVEL then you'll have to download an EPUB reader.
After that your all set! dotNOVEL has different sections dedicated to Korean Light Novels, to Chinese Light Novels and to Japanese Light Novels. It is a community where people post their favourite translated light novels and where other community members can download them for free.
6. Kureha One:

Kureha One has a torrent like appearance but you shouldn't worry. It's like dotNOVEL in composition and structure and has uploaded novels that you can read by downloading on to device and later viewing it through an EPUB reader once you've downloaded one. Like torrent, the latest uploaded content can be viewed on the home page, but you can always search for something specific if you feel like it through the search menu.
7. WebNovelOnline:

WebNovel is a website where a large collection of light novels is posted for the people of the community to read free. It has divisions and owns one of the largest reserves of translated light novels in a number of different languages. This is a perfect site for people who want to read the novel in their own native language.
8. Barnes and Noble:

Barnes and Noble is an American website for reading and buying novels. However, there are a number of free online books and light novels available on its downloadable application called the nook app. This allows readers to get the latest light novels and read them easily.
9. Royal Road:

Royal Road has a large collection of translated novels that are loved by a very huge community of people love their content and are huge fans of their translations.
Check out Royal Road here
10. Asian Translated Novels:

Asian translated light novels is a database full of light novels that have been collected from all around Asia. They have a large community of people who follow them and they have grown quite a lot in the last two year.
Who should read light novels?
Everyone who has been a fan of anime or Manga should try reading Light Novels as well. It's an amazing experience! And some of our favorite anime that have not had sequels made are continuing their stories through their next Light Novels.