"Thank you PSL for bringing cricket back home."
It was the time when I started watching cricket matches with interest and spirit. I don't have much recollection of 2009 T-20 World Cup. I was giving my grade 6 exams at the time, and most of the matches I watched were in between gaps offered during breaks. Still, the Final was something everyone took out time for. In Between my Father's insistence to go back to my room and study, I managed to catch whatever I could of the moments leading to the proudest moment in Pakistan's Sports History.

The 21st June 2009, when Pakistan Cricket Team emerged from Darkness as back then days Srilankan Team was attacked by terrorists in Lahore while they were on the Pakistan Tour. It was only sixteen days that the only two teams, Pakistan and SriLanka strode out to the center for their respective National Anthems in final at Lords, Neither deserved to lose & both played splendidly throughout the tournament. But The Sixer Machine"Shahid Afridi" struck his Victorian Man pose at the end of tense sunday evening, Cricket had served the greater purpose, Pakistan lifted the trophy but Srilanka had not lost. It was Cricket's defining moment-It was more than just a game. World had witnessed the game full of performances as both teams played magnificently.

Credit: Twitter.com
The Idea of PSL was brought up by Dr.Nasim Ashraf, who served as the chairman of PCB in 2007 and 2008. The league was inspired by the defunct ICL and very successful IPL. However, The Idea took its time to be materialized and comes out as even better than any of the Cricketing Leagues played in World. The First edition of PSL was hosted by Dubai, UAE from 4th Feb to 23rd Feb. The Five teams from Karachi, Peshawar, Quetta, Lahore and Islamabad played 24 matches and the title was won by "Islamabad United".
It was the first event that was hosted by Pakistan at neutral venue and It was full of successes for Pakistan Cricket Board and Pakistan
After then, PSL's second edition was masterpiece and It came with the idea of final being played in Lahore, Pakistan. It seemed to be a challenge for PCB and Pakistan Government but they made a committee with the higher security staff and made some good moves to make it happen in Lahore successfully. The teams reaching the final were Peshawar Zalmi and Quetta Gladiators. The overseas players of Peshawar Zalmi came to Pakistan. The Idea went successful when some of the foreign players and coaches came to Pakistan to witness final. The Captain of Peshawar Zalmi Sammy said:
 Pakistan is a safe country, there is no one to harm you and I really enjoyed playing final in Pakistan and this league played a vital role for backing up cricket of Pakistan to come home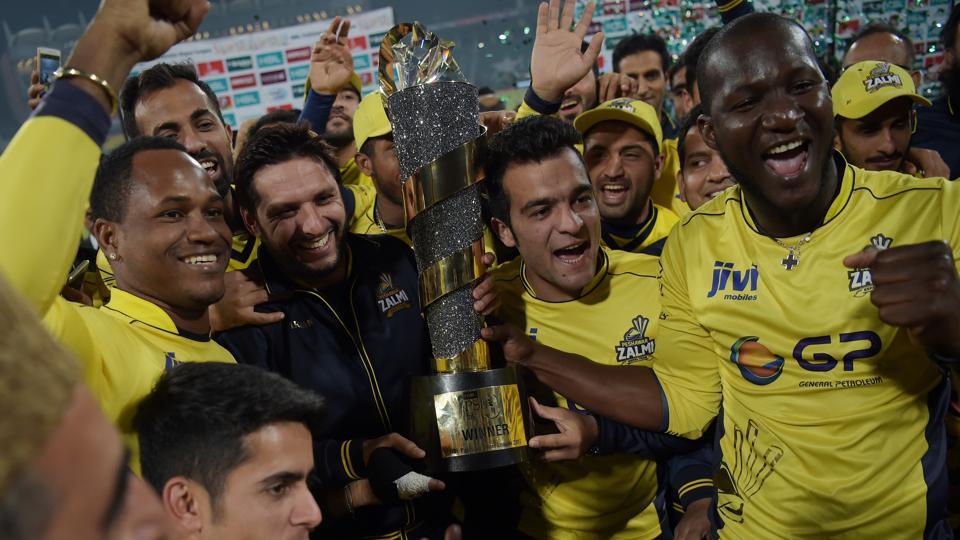 Credit: Twitter.com
Thanks to all of the people involved in making this PSL Final succeed and It helped Pakistan to bring cricket back home. Although dream of every Pakistani Citizen came true. Next year whole PSL will be hosted by Pakistan(In Sha Allah)