Here's How You Can Make Your First $1 Million Dollar
It might sound very unrealistic for someone to create a net worth of 1$ million, but it's a lot easier than you think. You'd be surprised to know that you don't even require a lottery ticket to become a millionaire. Your annual salary and the way you allocate your resources matters a lot. The way you spend, the way you save, your working habits, a well-planned vision and a good investing plan can help you make the 1$ million dollars you plan to. Trying to achieve this goal will definitely require some sacrifices from your side, but the net amount is worth all the efforts. If you're really interested into become a millionaire then continue reading this article and incorporate these 7 tips into your lifestyle and you will already see your dream coming true.
View Additionally: Largest Companies in The World
Balance Your Profit Margin to Become a Millionaire
You must have heard businesses trying to improve their profit margin by achieving certain objectives; well, guess what? You can also apply the same strategy to achieve your goal to become a millionaire. By increasing the gap between your earnings and saving, you make a profit, just like businesses do. To make that 1$ million you would need to increase your saving rate from 5% to approximately 15%. You would definitely have to make some hard choices, but it will only help you reach your target.
As Warren Buffett said," Save first and then spend whatever you are left with".
Turn Your Passion into Your Profession
Firstly it's important to discover what you're most passionate about. Your passion alone won't make you that 1$ million. Luck and hard work also go hand in hand. Discover your passion, believe in it and then invest in it. Pursuing your passion as your profession will definitely make you happier and also successful. If you want to become a millionaire then you really need to be focused and set your goals. The right resources and opportunities will lead you to your goal very soon.
To learn more on how you do this check out: 12 Ways You Can Transform Your Passion Into Business
Invest Sooner
To become a millionaire you should be able to strategize well and calculate your risks. A little mathematics will help you in choosing the right investment plan, calculating your dividends and receiving a handsome amount in the end.
However, the sooner you start investing the sooner you'll receive the benefits of it. But it's also a matter of knowing how much to invest, for how long and at what rate.
Try investing more in bonds, certificates, and funds with greater interest rates so that you get a greater return on your investments.
Be Patient (Become a millionaire)
Irrespective of the path you choose to become a millionaire, you need patience. Every successful become a millionaire had to wait years to enjoy the benefits of their investment. Investing money in stocks will take a long time to accumulate to your desired amount. Any business that you set-up will require nursing, patience, and efforts to become fruitful. Certified Financial Planner, Daniel Zajac says,
"Making your first million will often be harder than making your second".
Whether you invest in a business and keep saving, it will take years and requires time and patience. However, don't let the slow growth de-motivate you, have patience and believe in it.
 Invest In Real Estate
One of the easiest ways to become a millionaire is to invest in real estates. You can easily invest in new high-end projects if you live in a big city with lots of infrastructures. Getting into real estate business or simply lending a property will help you earn an extra amount that you could utilize for bills, and later save it. Professional suggests investing in a smaller property at a time and continuing to invest in bigger properties eventually.
Manage Your Lifestyle
Discard the perspective that all become a millionaire live a life of wealth. According to research people who show off their wealth through luxury cars and expensive lifestyle are not actually wealthy. Most of the people who are really wealthy live a life of simplicity and are truly humble. Real wealthy people believe in investing more rather than flaunting their wealth. The gap between saving and earning is crucial for those hoping to become a millionaire. Be realistic; you can't become a millionaire if you keep spending your money on expensive things.
Avoid a Negative Mindset
The worst thing you can do to yourself is denying yourself from the possibility of become a millionaire. Becoming rich requires a clear and broad perspective, so it's important to eliminate all negative thoughts you feed yourself. Motivate yourself, and develop positive beliefs that will encourage you to achieve your goal. Don't get distracted and don't let people tell you that you can't. You are the author of your own story. Take the right education and utilize it in your work. Don't be afraid to hustle. Success comes to those who believe in their dreams and hustle for them. If you want to become a millionaire, then start young and be patient.
Liked this one? Check out: 10 Billionaires You Should be Following on Social Media
– Article by Born Realist
Comments
comments
Join the doers club
Watch inspiring videos and amazing stories
Dr. Eddie The Famed Pediatrician has Created A Shampoo That's Just Right For Your Kids!
Dr. Eduard Valuenzuela or better known as Dr. Eddie in his office and to his patients/friends is a famed American Pediatrician. He is known for his amazing work as a children's doctor but he is now also moving into the world of entrepreneurship! With a team of great people by his side, he has created an amazing over the counter medicated shampoo. The shampoo is called Happy Cappy and does wonders for children with seborrheic dermatitis!
Where is Dr. Eddie from and what is his story?
Dr. Eddie comes from Houston, Texas and grew up in the suburbs. He graduated from Klien High School in 1998 and moved on to get a bachelor's degree in cultural anthropology from the University of Texas at Austin and graduated in 2002. During this time he continued taking pre-med classes at the University of Texas. After completing his major, he sold phone services door to door and worked for a title insurance company. After getting through medical school, Dr. Eddie started working at the Children's Hospital Los Angeles. It was during this time that he had the chance to learn from the nation's experts in Pediatric Dermatology.
What are his accomplishments over the years?
Dr. Eddie believes that his success can truly be measured by how happy his patients and his colleagues are with him. He likes exchanging life stories with his patients and often gives parents great side tips on how to rightly care for their children. Some of his patients live outside of his local area and drive many miles to seek treatment and advice from him.
Both of Dr. Eddie's parents were immigrants, his mother being from Poland and his father being from the Dominican Republic, making him a first generation American. He comments that while his parents' marriage lasted only 2 years, he received a lot of love from both of them and had a happy childhood. He became a very outgoing person because his mother moved a lot and he always had to make new friends at his new schools. He also comments that despite being an outgoing person, he never had a problem doing projects on his own. At the age of 15, he started his own veggie garden and even managed to lose a lot of weight, which made him feel very empowered.
In med school, he was the advertising organizer of his pre-med organization, Alpha Phi Sigma. His good work helped the organization recruit many new members. He became involved in several projects in med school, including a camp for diabetic kids.
In 2015, Dr. Eddie got married and had his first child in 2016.
As a pediatrician (now based in Houston, TX) he has aimed to improve the human condition and aims to do the same as an entrepreneur. His shampoo, Happy Cappy, has helped several families get rid of scalp and skin flaking and has received countless positive reviews on Amazon, where the product is currently sold.  
What is so unique about Happy Cappy Shampoo?
Dr. Eddie comments that there is no shampoo like Happy Cappy. It is rich, lathering and helps remove itching and scalp flaking. Happy Cappy does not contain any pungent odors like other "Anti-Dandruff" shampoos. It is so much better than the "all-natural" shampoos that do not contain FDA approved ingredients. Happy Cappy is also the first OTC shampoo for children of all ages. It has Pyrithione Zinc which has been proven safe and helpful in curing dandruff. It also contains Licorice Root extract which soothes redness. It also has a modern looking shampoo bottle and is quite popular among adults too!
Has he been through any tragedies? How did he overcome them?
Dr. Eddie tells us that life is full of ups and downs and while some days are good, others are not. He has often found it hard to tell families that their child has a chronic illness. When a patient is diagnosed with cancer, he has a hard time coming to terms with it.  He comments that his family, colleagues, and parents have played a huge role in getting him through tragedies. He often talks through his problems with his wife, parents, and colleagues and feels better when he has. He believes it is important to talk things through with loved ones and says that it helps stabilize a person.
What are his future goals?
He is a married man with a lovely little girl named Olivia and another child on the way. He praises his wife for being patient and putting in the hard work and taking care of their kids as he works. He hopes to keep providing for his family successfully and wishes to teach his children how to be empathetic and kind. He believes that financial stability will allow Happy Cappy to give back socially, as a company and will hopefully open up more travel opportunities for him.
What is his Golden Rule?
Dr. Eddie believes and lives by the golden rule; "Do unto others as you would have them do unto you."
Comments
comments
Willis Marshall and Erin Patten Are Transforming Hair and Saving the Environment At the Same Time
Willis Marshall and Erin Patten are the co-founders of DaO Detroit which is an environmentally friendly, all natural, plant-based hair care company that guarantees a transformational experience for all types of hair for people of all ages. DaO Detroit's main focus is environmental sustainability, and both Willis and Erin hope to pave the way for other hair care companies to move towards safe practices, just like they have. Willis and Erin have different stories to tell, but they both have the Earth's and your best interests at heart, and their genuinity is what makes DaO stand out from all the other brands!
Where did they start out?
Erin was born and raised in Texas and then graduated from the University of Texas. She was always a Texas girl at heart and her childhood and teenage years had been filled with lots of BBQs and rodeos. After finishing college, she was eager to go out and see the world as much as she could. So, she traveled everywhere, going from Costa Rica to New York, Paris, Rio de Janeiro, and Boston before finding herself in Detroit 3 years ago. She has experimented with a lot of things as a professional before now finding her calling with DaO Detroit.
Willis, on the other hand, grew up in Detroit, where he spent most of childhood and later went on to win 3 NCAA DIV 1-AA National Championships for Youngstown State University. He graduated with a BA in Advertising and Public Relations and was offered a job by GlaxoSmithKline, but he declined to pursue a professional career in football. He played in the CFL for a few years before coming back to the USA to play in the Arena Football League, before deciding to retire and start personal training company called Mojo Fitness which focused on aquatic therapy for addicts. In 2017, he helped start-up DaO with Erin.
How did DaO come into being?
Willis and Erin first experimented with different plant-based constituents in their bathroom. When they saw the results, they knew they were on to something. So, they co-founded DaO, which actually means "defy all odds".
What do they have to say about their success?
Willis believes that success is earned and so, he has always worked hard in the classroom and on the field (during his football playing days). He believes his strong work ethic has been the cause of all the positivity in his life and comments that all the championship wins he has been a part of have only come his way because of his hard work. He is very proud of Mojo Fitness and says that while he is happy about it becoming a center for physical fitness, he is especially proud of the aquatic classes Mojo Fitness has been holding for recovering addicts and believes that it has changed the landscape of recovery options.
Erin has always been a very disciplined and hard-working person. She has always worked to be great at what she's put her mind to. She was accepted into every college she applied to but chose UT because she was awarded a prestigious scholarship that allowed her to major in two honorary degree programs free of cost. On the other hand, her professional life has not been easy but she has, at the same time, worked in places like InStyle Magazine, Bergdorf Goodman, and Lord & Taylor, as a fashion stylist. Later, she decided to pursue two master's degrees from Harvard and is extremely proud of the work she has done.
What makes DaO unique?
DaO is working to remove false divisions in the hair care industry. A single product from DaO is going to work just as well on a man's hair or a woman's or a child's. DaO's ingredients are completely plant-based and they focus on manageability, scalp and hair care. The best part is that using a single product isn't just unique socially, it also saves a tidy sum at the year's end. It is also extremely rare to find companies that focus on such a wide range of audiences. Along with all its benefits, DaO also uses a portion of the proceeds from each of its sales to support its #DefyAllOdds Own Your Identity initiative which encourages people to embrace the things that make them unique.
What tragedies have they been through?
Erin comments that her father passed away and of course that left her devastated because he had been her rock and was the glue holding the community she had grown up in together. This incident was soon followed up with the devastating murder of one of her closest friends who had been staying in Jamaica, and all of this was happening weeks before DaO's first product was scheduled to ship. Yet, despite it all, she endured and credits her recovery to healthy eating and staying positive.
Willis comments that there have been several hurdles in his life but he has been lucky enough to have never faced a truly devastating tragedy. He says that he is imperfectly perfect and that each bump in the road is a learning experience for him.
What are they looking forward to in the future?
Willis hopes to make DaO's healthy initiative global and wants to see DaO as a global household product very soon. The DaO team has even had several conversations with high-end hotels in New York, Miami, and Detroit and are working to get their products placed in their rooms. He hopes that the brand awareness will be good for the company. He also says that physical wellness is important to DaO and that the company believes in the concept of Mind, Body, and Hair and believes that what a person eats and how they spend their day has a direct impact on hair. Finally, Willis hopes to build several DaO beauty and wellness centers across the globe to have a positive health impact on lives.
Erin says that her dreams for the future are her lifelong dreams… She wants DaO to become the multi-billion dollar company it is destined to be. She has also been learning to sing, dance, emcee and DJ and hopes to combine her self-expression in music, dance, and design into something meaningful which she can share with the world. She also wants to learn Portuguese and speak it fluently and wants to move to Brazil one day.
Words of Wisdom:
Erin comments that one of the major themes and messages that DaO represents is Taoism. She quotes Lao Tzu by saying, "Because she competes with no one, no one can compete with her."
Willis says that he lives by these words of wisdom, "Whether you think you can, or whether you think you can't, YOU ARE RIGHT!" He says that he learned at an early age that his thoughts can either be his greatest allies or his greatest adversary. He believes that it is important to have faith in oneself and that this faith is just another word for "mental toughness". He also says that a person's mental toughness is sharpened as he or she goes through life's obstacles.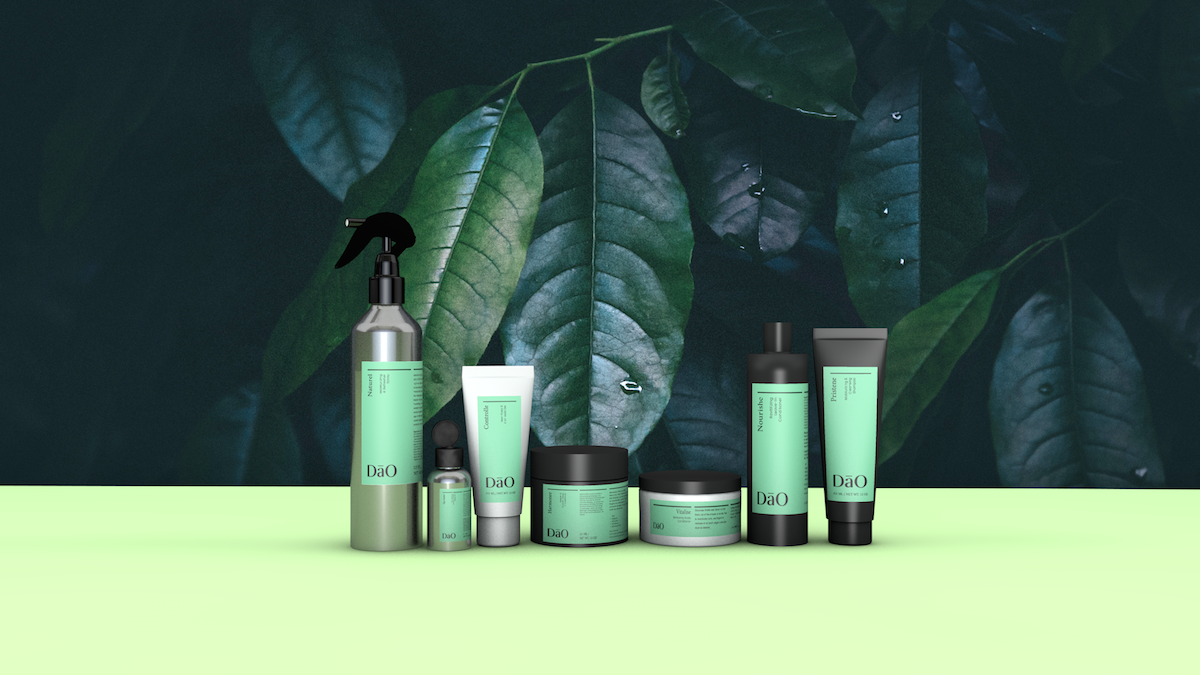 How are they making the world a better place?
Erin says she has learned over the years that each individual has been sent into this world unique and has something unique to share with the world. She says the best thing to be is your own authentic self. She believes that the more a person loves themselves, the more they can love others and she is trying to let this message flow out into the world with DaO's message and their products.
Willis comments that a portion of their revenue will always go back to the community in the form of their #DefyAllOdds initiative and will be used to fund education endowments, outreach programs, and more. What's more to it that the money that people will save using their unified hair products will not just benefit the household economically, it will bring forth a unification of different ethnicities by giving all hair the same care products.
Comments
comments
From Zero to Hero; Daniel Mazzone
Daniel Mazzone is a famed artist from Canada who became homeless at the age of 15 and has used that to help influence and turn himself into the artist he is today. These days, his art pieces have gained global fame with celebrities and notable figures all wanting to hang his art in their homes. Daniel also uses his art to help raise funds for various charities around the world.
Accomplishments over the years:
According to Daniel Mazzone, it is difficult to measure how successful he is. He says he has come a long way in his art but somehow he is never satisfied. He always thinks that there are a few flaws and he wants things to be perfect, while always working towards more challenging artworks. With that said, Daniel mentions that he gets to do something he loves each and every morning, and so this in itself is what he calls success.  He feels that success is measured by the ability to be present, set goals and live with purpose and truth.
Uniqueness about art:
Daniel Mazzone's artwork is unique because it really doesn't look like anyone else's. He loves to portray a story or message through his pieces of art.
Overcoming tragedies:
One of the biggest tragedies in Daniel Mazzone's life is that he lived on the streets, being homeless. It is not easy to survive, let alone get yourself off the street to change your life. He says he doesn't regret a moment of it though. It changed his life for the better. He appreciates the world and the people in it in a different, more beautiful way these days.
Goals for the future:
Daniel Mazzone's main goal is to be in museums all around the world.
Words of wisdom:
According to him:
"Look forward to keep going. Never give up!"
Making the world a better place today:
He loves to donate more and more each year to different charities. Most recently he made a piece to be auctioned off with PETA (People for the Ethical Treatment of Animals). He also helps out many charities for children as well in and around his hometown of Toronto, Canada. As Daniel says proudly, "Children are our future!"
Comments
comments