Vitamin deficiency affects your face the most and is easily visible in form of pale skin, swollen eyes and crack at the corner of your mouth. The main cause of vitamin deficiency is usually not taking healthy food or having imbalance diet. Some people are more sensitive when it comes to illness or having vitamin deficiency as compared to others. Here are seven symptoms which are easily visible on your body and can tell that you have a vitamin deficiency.
7. Sensitivity In Gums:

Image credit: Shutterstock

Image credit: Shutterstock
Sensitivity in gums can be felt when you start bleeding from your gums or feel like your teeth are a bit loose. This might mean that you have vitamin C deficiency. Other than sensitive gums symptoms such as infection or wounds not healing properly can be seen in vitamin C deficient people. Vitamin C is required to make your immune system healthy, production of collagen and keeping the strength of tissues. For getting rid from vitamin C deficiency you need to increase the intake of citrus fruits, spinach, cabbage, pepper and broccoli as they are the best source of vitamin C naturally.
6. Paleness Of Skin:

Image credit: Shutterstock

Image credit: Shutterstock
If you feel that your skin is getting paler and you didn't have pale skin before then it might be because you might not have enough quantity of vitamin B12 in your body. Lack of vitamin B12 can cause dementia, nervous system damage and even paralysis. You might feel exhausted by deficiency or infection and mood swings along with pale skin confirming the deficiency on vitamin B12. This vitamin is important for your body's production of blood, cell division and having a healthy metabolism system.  This is usually found in animal food products. People who don't eat meat should take some supplements of vitamin B12. There should be beef, oyster, cheese, liver, herring and trout in your diet to get rid of vitamin B12 deficiency.
5. Hair Dryness:

Image credit: Shutterstock

Image credit: Shutterstock
Your hair can easily dry out if you regularly dye your hair or dry and straight them. If you don't do any such thing and treat your hair with proper hair care products and if you can still feel dryness in your hair then it might be because of lack of biotin in your body. This deficiency can cause brittle fingernails. In order to get rid of deficiency, you need to include foods such as soya, eggs, tomatoes, beans, and oatmeal in your diet on regular basis.
4. Cracked Mouth Corner:

Image credit: Shutterstock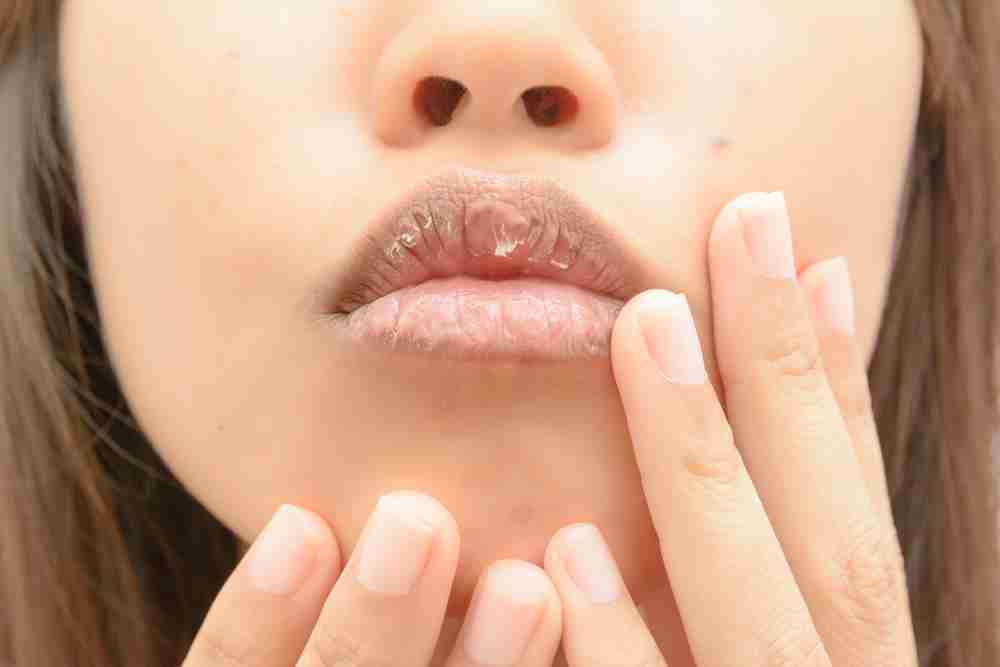 Image credit: Shutterstock
You definitely have an iron deficiency in your body if you have hair loss, pale lips, forget things, feel tired along with cracks at mouth corner. Iron is an important element of your body because it helps in moving oxygen throughout your body and to produce red blood cells and hemoglobin. To increase iron intake you need to eat oatmeal, liverwurst, chanterelles, and lentils as they have a high quantity of iron in them.
3. Acne On Face:

Image credit: Shutterstock

Image credit: Shutterstock
Not having enough zinc in your body can cause acne, don't' heal wounds properly or create eczema in human being. Zinc is important for your body to keep your immune system healthy and replace and divide cells of your body. If you have really bad acne or zits then you need to apply lotion with zinc in it to get rid of the acne or zits. Zinc can be easily found in foods like pumpkin seeds and calf's liver.
2. Swelling On Eyelids:

Image credit: Shutterstock

Image credit: Shutterstock
You can easily get swollen eyelids every now and then most commonly because of crying. If your eyelids are permanently in swollen state then you need to increase iodine level in your body. Iodine is important to take care of thyroid gland's proper functioning. Iodine deficiency can cause you to have an underactive thyroid, thyroid nodule and thyroid cancer. You can increase iodine intake by increasing the usage of dairy products in your body along seafood and cranberries. You might have an underactive thyroid id you are always tired have bad mood or hair loss so you should consult a doctor.
1. Wrinkles On Skin:


Image credit: Shutterstock

Image credit: Shutterstock
As you get older you start to see wrinkles appearing on your face, which is normal as you grow. If you are getting a large number of wrinkles in a short period of time then you might not have enough vitamin E in your body. Vitamin E helps in reducing oxidative stress and protects cells. Its deficiency can slow down collagen production in your body and lack of collagen reduce the elasticity of your skin making it form wrinkles. Vitamin E is important for healthy eyes, fertility, and proper working immune system.  You can easily find vitamin E in almonds, whole grain products, plant oils and walnuts
Note: if you can see any of these symptoms on your face then you definitely have some deficiency and in order to confirm if you need to see a doctor and take prescribed supplements only if they allow you too.
Article by Born Realist