The human body is an amalgamation of many strange but incredible parts that are quite adaptive to the environment. Humans are continually evolving though at a very slow pace but humans do show the signs of evolving with time. Like our essential organs which make our body capable to function, we have few parts that are useless to us today. These body parts may have some use back in the day but now due to evolving, they have lost their purpose. According to Charles Darwin's book "The Descent of Man", a human body has few parts that are useless to them but they still have them. This gives rise to an interesting theory that humans are just littering they way they look and function. We often compare ourselves with others when we find something odd or extra body part in another person. This is the sign of evolution. Let's have a look at some useless body parts that we really don't need.
15. Male body hair:

Image Credits: shutterstock.com
Body hair though have a specific purpose that is to function as an insulator but there are some body hair that provide no purpose. The facial hair has a purpose of attraction, eyebrow ceases sweat from rolling down the face but there are other sorts of hair that provide no benefit to the body. History reveals that body hair had a purpose back in the day when there was no concept of fabric to cover and keep the body warm but those times have long past,maybe in future we would have zero hair.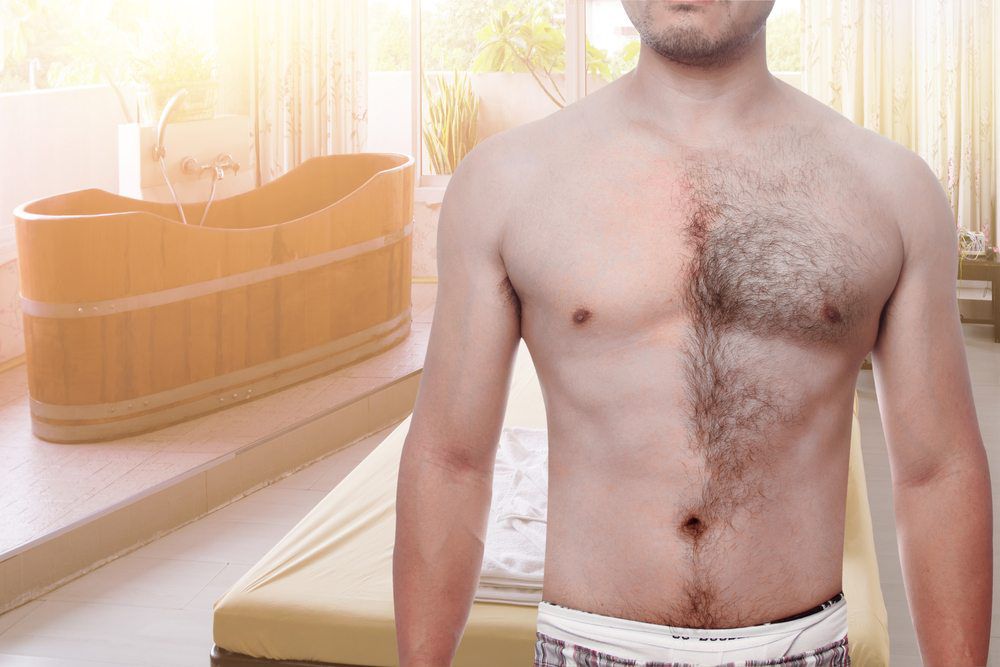 Image Credits: shutterstock.com
14. Wisdom tooth:
Image Credits: shutterstock.com
Wisdom tooth was used by ancient humans to chew plants to have complete nutrition when there was no concept of cooking. Such big teeth were used to cut through and chew big pieces of food but today we have evolved because our way of living has changed, we use fork and knives to cut our food instead of directly chewing it with teeth. Only a few percent of the population bears the pain of the extraction of wisdom tooth and many don't even extract this tooth. Many go through this painful process because we as humans don't have enough space in our jaw to make free space inside our mouth.
Image Credits: shutterstock.com
13. Para nasal sinuses:
Image Credits: shutterstock.com
There is no firm reason as to why we have attained these mucus-lined cavities but to cause us trouble during allergy season. It makes the head light and other than this it has no function. It has also evolved to increase the power and strength of our skull. They also have a potential to polish our vocal abilities and it's shape and size determines the voice quality which differs from one person to another.
Image Credits: shutterstock.com
12. Extrinsic ear muscles:
Image Credits: shutterstock.com
There are few people who are able to move their ears without touching them. Well, that is no magic but it is the work of the ear muscle that makes those movements. All animals can move their ears because they have got these muscles but all humans can't and when someone does have an ability to move their ears, it is quite a sight to look.
Image Credits: shutterstock.com
11. Neck Rib:
Image Credits: shutterstock.com
This is the set of a cervical rib which only countable people have. Maybe they were leftovers by reptiles which serve no purpose but shows the symptoms of pain and nerve issues. Some people have this extra rib that just hangs around in their body but soon it will disappear altogether.
Image Credits: shutterstock.com
10. Male nipples:
Image Credits: shutterstock.com
In early stages of fetus growth it generally has no gender and nipple appear in early stage development of the fetus, thus both male and female carry nipples on their body. During the growth years, female develop breast and nipples serve for lactating purposes but men do not produce milk but are only left with bare nipples, which are merely redundant.
Image Credits: shutterstock.com
9. Palmaris muscle:
Image Credits: depositphotos.com
This muscle is beneficial to those who are active in athletic activities like climbing or hanging. These muscles run down from wrist area to the elbow. These days people don't hang around on cliffs as they use to, thus this muscle is diminishing in most of the population already. It is only important to those people who actively participate in climbing or martial arts activities.
8. 13th Rib:
Image Credits: depositphotos.com
The 13th rib is found in the race of monkeys like gorillas, apes or chimpanzees but humans carry only 12 ribs though there is a percentage of the population that does have a set of an extra rib. Well, there is no reason to have an extra set of rib except that you are different from the person who has 12 ribs.
Image Credits: shutterstock.com
7. Arrector pili muscles:
Image Credits: shutterstock.com
Unlike animals who activate these muscles to warm themselves or intimidate others, we humans activate them when we feel too cold or see something breathtaking, and we call them goosebumps. Many cats raise their hair when they feel danger from another animal or they try to back away other animal but humans do not have enough long hair to show visible signs of detecting a threat.
Image Credits: shutterstock.com
6. Toes:
Image Credits: depositphotos.com
Human beings used toes to balance themselves or grab and climb with the help of toes. Studies show that humans have shifted their balance from front to side of their toes and they no longer need toes to grab or climb anymore. There is a fine percent of the chance that the toes might disappear from our bodies someday. Not in a few years maybe but it is a possibility that they might disappear in coming centuries.
Image Credits: shutterstock.com
5. The third eyelid:
Image Credits: shutterstock.com
The tiny fold you see at the inner corner of the eye is used to keep debris out if your eye. Ancient mammals used to have a full membrane to keep the eye protected but now only a little part is left of it and that lies in the corner of the eye. There is a possibility that it might disappear in future because it is no more needed.
Image Credits: shutterstock.com
4. Coccyx:
Image Credits: shutterstock.com
It is another term for tailbone. Many animals have it because they possess a tail in order to balance and communicate. We as humans no longer have a tail, but researchers believe that we are left with the leftover from when we used to have some extra body parts.
Image Credits: shutterstock.com
3. Darwin point:
Image Credits: shutterstock.com
All we have left of the large ear we used to possess is a tiny piece of folded skin on top of the ear. It is seen in some people which indicates its use back in the time when people used it to hear long distant sounds. It will continue to vanish as the generations will pass.
Image Credits: shutterstock.com
2. Subclavius muscle:
Image Credits: depositphotos.com
A small muscle located between the clavicle and the first rib which helped our ancestors to walk both on hands and knees but today its presence only protects us. Since we do not walk on all fours it is no longer required but few people still possess one or two of these muscles.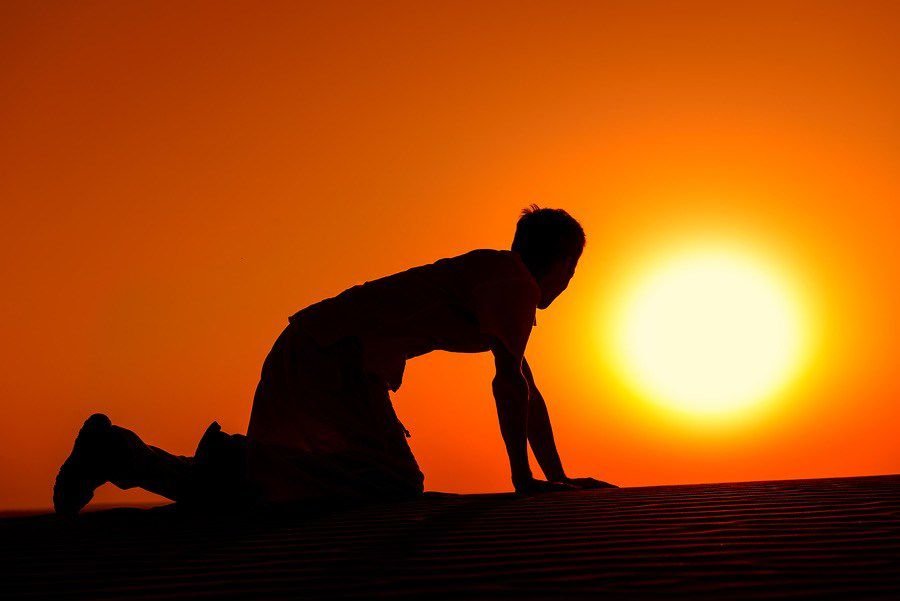 Image Credits: shutterstock.com
1. Appendix:
Image Credits: shutterstock.com
It is a tube attached to large intestine so humans can digest more cellulose when they depended upon plants as their source of nutrition. As today we have other forms of nutrition and we do not solely depend on plats we no longer need this muscle. It is unnecessary and prone to infections.
Image Credits: shutterstock.com
Article by Born Realist 
Comments
comments
Join the doers club
Watch inspiring videos and amazing stories
The Real Causes of Depression Are Not What You Think
Depression is one of the most common mental illnesses but not in the least any less serious. Its symptoms are often inconspicuous and many people suffer from its behavioral challenges without knowing the reason behind them. However, it is also one of the most diagnosed mental ailments and if you think you need help and seek it the chances are that a professional will easily diagnose the reason why you are feeling a certain way.
Image credits: iStock
If you see a mental health professional and they diagnose you with depression it is highly likely that they would explain this illness as a chemical imbalance in your brain and if need be they might even prescribe you medication (anti-depressants), which will restore the chemical balance and you will start feeling better.
However, for many people, this procedure does not work. As long as they keep taking the drugs they feel fine, but as soon as they decrease the dose or stop taking it, the symptoms start to come back.
Here are some of the facts that explain why it is not that simple to treat depression for some people:
Image credits: Shutterstock
Scientists use the Hamilton Scale to measure depression. It is a scale from 0, at which you would be bouncing with ecstasy to 59, at which you would be suicidal. Improving your sleep cycle improves your scale for around 6 points and chemical antidepressants can improve your scale by around 1.8 points. The effect is no doubt real but also minimal. For people who are at the far end of the scale, it is just not enough to bring them out of depression. There is a need to expand our options when it comes to treating depressed or anxious people.
You would be surprised to know that a lot of scientists do not agree with the notion that depression is caused due to a chemical imbalance. In fact, there could be up to nine factors that are responsible for depression, out of which only two are biological and seven are social or environmental. The causes can be quite polar and play out in different ways in that person's life.
Image credits: iStock
For example, childhood trauma causes the risk of depression to increase manyfold. If you, unfortunately, suffered a traumatic event as a child for example sexual or emotional abuse, neglect can make you 3,100 percent more likely to attempt to commit suicide as an adult, and more than 4,000 percent more likely to be an injecting drug user. The questions arise that why do the people who have had unhealthy childhoods behave in similar ways? Why are they more likely to adopt self-destructive behaviors like obesity, addiction or in extreme cases suicide.
Image credits: iStock
There is a theory that people who had problematic childhoods behave this way because as a child you have little control over your environment and state of things around you. You are often helpless in stopping somebody from hurting you. So, two way of thoughts open up to you, either you admit to yourself that you are truly powerless and there may be nothing you can do to stop someone from hurting you or you believe that whatever someone is doing to you is your fault. In thinking the latter you convince yourself that you do have some power. This way blaming yourself for the trauma protects you from admitting how vulnerable you were. If it was your fault then somehow it was under your control
This state of mind is also toxic because if you believe you were responsible for getting hurt it also means that you somehow deserved it. You may be prone to take accepting abuse as an adult too because you think that is all you deserve. It can be really hard living with this notion in your head which was once a defense mechanism.
Fortunately, not all hope is lost. Just having someone to ask you " I know you went this trauma in your childhood and I am so sorry it happened to you. Would you like to talk about it?" can do wonders. Being able to discuss your trauma, having someone to listen to your story and tell you it was not your fault can lead to surprisingly positive changes. Just being able to do that can reduce the chances of future illnesses. Just the act of releasing your shame can be healing.
Image credits: iStock
More than chemical imbalances in your brain, depression, and anxiety are caused by the events happening in your life. It can due to a feeling of worthlessness, feeling like your job is meaningless or being lonely and not being able to confide in people around you. First one needs to realize that it completely okay to have these thoughts and feel these things. You are not alone in your suffering and many people will be able to relate to you, second, do what you have to do to break free of these underlying causes.
Comments
comments
Here's The Music We Use In Our Videos – Born Realist Music
Before we get to the point of the post, we'd like to tell you that we appreciate the feedback we've been receiving from our videos and we're glad we've brought you stories that have inspired you all! It makes us happy that your responses are positive and we hope to keep making better content for all our viewers to enjoy.
Now on the subject of feedback, a lot of you have been wanting to know where the music(Born realist background music) we've been using in our videos is coming from. So we decided that it was best to let you know that the music we use is free and can be used by anyone who wishes to. Also, we'd like to clarify that it hasn't been created by Born Realist itself.
Please keep leaving your queries and comments. Your feedback helps us create better content. Have a fine week, and here's the music:
Comments
comments
8 Worst Ways To Die According to Scientists
Dying is going to be pretty bad either way, at least I think so, and the really scary thing is that no one is ever going to know how bad it actually feels before they go. Morbid, I know. But the thing is, some ways of dying are worse than others. Like burning on a stake is so much worse than dying softly in your sleep. And getting crucified is probably a lot more awful than dying of old age. So, we decided to write the worst possible ways of dying, let us know which one you think is the worst way to die.
Getting Burned:
image credits: iStock
Now, this is probably one of the worst ways to go. When the burning starts, you'll experience these toxic fumes and you'll be lucky if they kill you before the fire starts burning off your flesh. At the start, the fire will start burning away your external skin and you will experience immense pain and will your body will struggle to break you free of the place where you're burning in the first place. When the fire is done burning off the external layer, it'll move towards your muscles until finally, your heart stops because of the interrupted circulation of blood.
Starvation:
image credits: iStock
Several people starve to death every year, and it can be one of the worst ways to go. Starvation can be slow and painful because the body resists and you are able to feel yourself dying slowly as the process initiates. At the start, your body will start consuming your fat and will slowly move on to your muscle when it doesn't have a choice, finally after it doesn't have anything else to keep you going its going to die out.
Dehydration:
image credits: iStock
The body is made almost completely out of the water. Now, imagine it running out of its most major constituent. Dehydration follows almost the same path that starvation does, the body starts taking water from its organs and eventually as the days go on, it starts shutting them down, before finally ending it all because of serious organ failure.
Decapitation:
image credits: iStock
Decapitation is one of the most painful ways to die and is a favorite method of killing in several tribes and has been popular over history. But people don't know is that the head stays conscious a few seconds after the head has been removed from the body. Now imagine being conscious when something like that has happened, and whats even worse is that it usually takes more than one swing to take off a head. Imagine enduring something of the sort.
Lethal injection:
image credits: iStock
The thing with lethal injections is that sometimes the dose given is too low and leaves the person it is delivered to writhing in pain and groaning before the chemical shuts down the vital organs. And while a quick and swift is often merciful, lethal injections can be a lot more painful than most of the things on this list.
Electric chair:
image credits: iStock
The electric chair is probably one of the scariest inventions. Death by electric chair delivers a shock that boils the blood and electrifies nerves, but sometimes the shock isn't enough to kill the person at once, there have been recorded instances when people have been fired for a whole ten minutes.
Buried alive:
image credits: iStock
There have been instances of people being buried alive in the past. Imagine suffocating under the pressure and weight of so much dirt, getting an early grave before its even your time. The thought of already being in your grave is worse than actually dying.
Radiation:
image credits: iStock
Radiation doesn't give you super powers, seriously, it kills you and causes cancer and retards the brain when in high doses. In-fact radiation can singlehandedly retard your brain cells and can destroy your organs one by one.
Comments
comments