The common talk in the world that technology makes our life easier and also saves a lot of time. In the world of Smartphones, One can track all the daily to-do list, your jogging time, your burnt calories, your water intake and can also make a collection of your favorite movies. We're presenting you the apps that will act as your lifeline to help you keep your life organized and stress-free:
1. LokLok: Draw on Lockscreen (Free: Android)
The app allows you to spread the love with your beloved ones right on your phone's lock screen. Leave notes, drawings, and photos for them to see when they check their phones.
Download Link(Android): https://play.google.com/store/apps/details?id=co.loklok&hl=en
2. Waterlogged (Free: iOS, Android)
The water intake is not enough that will cause dehydration, here, we've found an app that will track your daily water intake with charts and graphs. It'll give reminders and uses the oz, ml and L units that depend on the size of your vessels.
Download Link(iOS): https://itunes.apple.com/us/app/waterlogged-daily-hydration-tracker/id352199775?mt=8
Download Link(Android): https://play.google.com/store/apps/details?id=com.daylogger.waterlogged&hl=en
3. InstaSize (free: iOS, Android)
This is Instagram user's favorite app that allows resizing photos and customizable borders with its own filters, making it a one-stop shop for simple editing.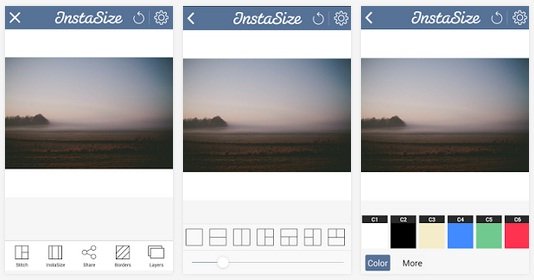 Download Link(iOS): https://itunes.apple.com/us/app/instasize-photo-editor-picture-effects-collage/id576649830?mt=8
Download Link(Android): https://play.google.com/store/apps/details?id=com.jsdev.instasize&hl=en
4. Google Keep(free: iOS, Android)
It's an app that gives you all the sightings of your reminders and notes in one single glance. It allows capturing what's on your mind and gives you the reminder at your desired time and place.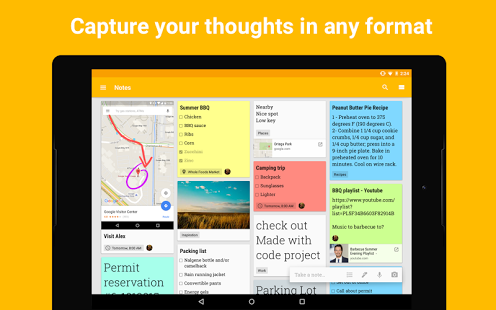 Download Link(iOS): https://itunes.apple.com/ca/app/google-keep-your-thoughts/id1029207872?mt=8
Download Link(Android): https://play.google.com/store/apps/details?id=com.google.android.keep&hl=en
5. Browse Simply (free: Android)
Browse simply is a browser that has several modes including Speed Mode, Data Save Mode, Private Mode, and has built-in HD video player. It is easily transferable to SD-card. Well, This app can make you delete your phone's browser. Give it a try!
Download Link(Android): https://play.google.com/store/apps/details?id=com.browse.simply&hl=en
6. School hub Students (free: iOS, Android)
The tool that helps students in tracking their academic life. It can easily accessible with any of your devices and as well as your PC . It gives you the reminder if you have some stuff due and maintain everything in graphical charts.
Download Link(iOS): https://itunes.apple.com/us/app/schoolhub-students/id895377530?mt=8
Download Link(Android): https://play.google.com/store/apps/details?id=com.schoolhub.android.students&hl=en
7. Twilight (free: iOS, Android)
Nowadays, the most used app that will allow your cell phone to dim all the light in darkness by detecting where the brightness is necessary or not. It's basically for the people who love to stay awake late at night.
Download Link(Android): https://play.google.com/store/apps/details?id=com.urbandroid.lux&hl=en
8. Soundcloud (free: iOS, Android)
World's largest music and the audio platform having 150 million tracks and counting…It also allows the user to create communities and join them where they can share their favorite covers. No need to search for the songs over the internet, it can easily be downloaded offline within the app.
Download Link(iOS): https://itunes.apple.com/us/app/soundcloud-music-audio/id336353151?mt=8
Download Link(Android): https://play.google.com/store/apps/details?id=com.soundcloud.android&hl=en
9. Sygic: GPS Navigation and Maps (free: iOS, Android)
The best offline app that will help you in finding the directions for your route or the restaurant you want to eat in. This app is a package with speed-tracking sensors that will allow you to determine the speed of your moving vehicle and it doesn't need GPRS/3G/4G, it works offline as the whole map is downloaded in your phone with all the details. It has all the maps of the world.
Download Link(iOS): https://itunes.apple.com/us/app/sygic-gps-navigation-maps-traffic-gas-prices/id585193266?mt=8
Download Link(Android): https://play.google.com/store/apps/details?id=com.sygic.aura&hl=en
10. Flipboard:
Headlines on your single tap, this app has you covered. It allows users to select their topics they're interested in, It creates themed magazine that are personalized to your tastes. It can also easily be connected with Facebook, twitter, and LinkedIn to get you updated.
Available for: iOS, Android, Windows  Phone
Donwload for android: https://play.google.com/store/apps/details?id=flipboard.app&hl=en
11. ProShot:
App is designed for all type of photographers who want to improve their skills. It's best features provide users to adjust focus and light during shooting. You can play with zoom and make the best of it.
Available for iOS and Android
Download for android: https://play.google.com/store/apps/details?id=com.riseupgames.proshot2&hl=en
12. Remote Mouse:
With this app you can easily transform your smartphone into a remote control for your PC. This is badly needed when you have to make presentation or want to watch movie but your mouse or keyboard is low on battery.
Download for android: https://play.google.com/store/apps/details?id=com.hungrybolo.remotemouseandroid&hl=en
Comments
comments
Join the doers club
Watch inspiring videos and amazing stories
Here 17 Books Highly Recommended by Mark Zuckerberg and Bill Gates
Both Mark Zuckerberg and Bill Gates, biggest names in the tech world who brought revolutionary changes say that reading is what has helped them achieve their success as reading really does open your mind to the biggest most creative ideas.
Bill Gates, told The New York Times in 2015 that he reads 50 books in a year. On the other hand, Mark Zuckerberg created an online book club where he reads a book regularly every two weeks. Here are a few books that they have recommended.
17. Creativity, Inc. by Ed Catmull
Image credit: Amazon
The book is about the story of Pixar and it is written by one if the best founder of computer animation giant. In the book, Catmull gives his wisdom on entrepreneurial-ism and management while he argues that any company should avoid tampering with the natural creativity of their employees. Zuckerberg says "I love reading first-hand accounts of how people build great companies like Pixar and nurture innovation and creativity,"
16. The Gene: An Intimate History by Siddhartha Mukherjee
Image credit: Amazon
Mukharjee, a practicing physician, teacher, researcher, and author captures the relevance of genome science to people's daily lives. In this book, he answers the big questions related to our personalities and what is it that makes us us. Bill Gates writes "Mukherjee wrote this book for a lay audience because he knows that the new genome technologies are on the cusp of affecting us all in profound ways,"
15. Better Angels of Our Nature by Steven Pinker
Image credit: Amazon
The 800 pages can intimidate anyone but it is one of the best books to read by a Harvard psychologist. The writing is easy and the research on how violence has decreased over time even though it is focused on 24 hours news cycle and social media too. The book will offer you a perspective that might change your life according to Zuckerberg. Bill Gates considers this book as one of the most important books that he has ever read.
14. Gang Leader for a Day by Sudhir Venkatesh
Image credit: Amazon
Venkatesh, a Columbia University sociology professor got involved in a Chicago gang in 1990's as a sociological experiment. According to Zuckerberg, the story of Venkatesh is one to create inspiration for understanding and communication all across cultural and economic barriers. Mark Zuckerberg wrote "The more we all have a voice to share our perspectives, the more empathy we have for each other and the more we respect each other's rights,"
13. Sapiens: A Brief History of Humankind by Yuval Noah Harari
Image credit: Amazon
We have never been the only human species on earth, roughly around 100,000 years ago there were about 6 but the only ones who have survived were homo sapiens. But how? We weren't always the only species of human on Earth — roughly 100,000 years ago, there were six, but homo sapiens are the only ones who have survived. How come? Bill Gates says "Both Melinda and I read this one, and it has sparked lots of great conversations at our dinner table, Harari takes on a daunting challenge: to tell the entire history of the human race in just 400 pages". Harari looks towards the future instead of dwelling on the past as future has artificial intelligence and genetic engineering that makes the definition of human more fluid. "Bill Gates recommend it to anyone who's interested in the history and future of our species.
12. Shoe Dog by Phil Knight
Image credit: Amazon
According to Gates, the book is an honest reminder of how the road to success can never be a straight line, it is a winding path filled with fall outs, disagreements and hurt feelings. Knight is the co-founder of Nike and he gave us the first insight on the most famous retailers in the world.
11. The Structure of Scientific Revolutions by Thomas S. Kuhn
Image credit: Amazon
The structure of scientific revolution is a philosophy book by a physicist.  The book looks at science's evolution and what has its effects become in modern word. It is the most cited academic books of all time. The book is best known for introduction of term "paradigm shift"  which represents moments in scientific history when some perspective was shifted fundamentally, like the time when Newtonian mechanics were replaced by quantum physics.
10. String Theory by David Foster Wallace
Image credit: Amazon
The book is basically an essay collective by Wallace on his favorite game, tennis. Bill Gates says "You don't have to play or even watch tennis to love this book, wielded a pen as skillfully as Roger Federer wields a tennis racket."
9. Why Nations Fail by Daron Acemoglu and James Robinson
Image credit: Amazon
The book is an overview of research conducted by MIT economist Daron Acemoglu and James Robinson a Harvard political scientist over the span of 15 years. The book was first published in 2012.  The book is about the argument on "extra active governments" using force to empower a selective few and "inclusive governments" using open markets for citizens to spend and invest money freely. They also argue that economic growth cannot guaranty the long-term health of a country. Zuckerberg read the book to understand global poverty's origin
8. The Three-Body Problem by Cixin Liu
Image credit: Amazon
The book was published in 2008 in China, its English translation won the 2015 Hugo Award for best novel in honor of science fiction books. The book I about the time period of Mao Zedong's Cultural Revolution and its kick-off after an alien race invades earth after the signals were sent correctly in space by the Chinese government.
7. World Order by Henry Kissinger
Image credit: Amazon
The book is for the modern time period where global conflicts can sometimes feel like an impossible thing to get sorted. The book is an instruction to the reader on the topic of how some countries have dealt with each other, made some mistakes and then learned how to show compassion for dint perspectives.
6. Rational Ritual by Michael Suk-Young Chwe
Image credit: Amazon
Mark Zuckerberg says "The book is about the concept of 'common knowledge' and how people process the world not only based on what we personally know but what we know other people know and our shared knowledge as well," he says that this book can help people in learning how to use social media to its best.
5. The Grid: The Fraying Wires Between Americans and Our Energy Future by Gretchen Bakke
Image credit: Amazon
According to Bill Gates' 2016 statement "This book, about our aging electrical grid, fits in one of my favorite genres: 'Books About Mundane Stuff That Are Actually Fascinating,". According to him, this book is like how he found out the importance of "Grid" in our everyday life when he started writing software for Pacific Northwest power providers. He learned there why the grid modernization was a complex thing and why was it so critical to building clean energy in future.
4. Seveneves by Neal Stephenson
Image credit: Amazon
Gates says he is grateful to a friend for recommending him this book after a decade of sci-fi dry spell. He writes in his blog that the plot catches you at the very first sentence when the moon blows up. That's the beginning of the story and soon the world learns how their species is about to be doomed, how in the time period of two years a meteor shower will destroy all life form on earth. Humanity is in the struggle of sending as many spacecraft in orbit as they can to escape the apocalypse.
3. Thing Explainer: Complicated Stuff in Simple Words by Randall Munroe
Image credit: Amazon
Munroe is the brain works behind "xkcd" webcomic. Munroe published a book in 2015 which explained about the modern technology by using the 1000 most common English language words. According to Bill Gates if someone cannot explain something simply it means they don't understand it. Bill Gates favorite explanation is about microwave "a food heating radio box" that cooks frozen food unevenly. "When you put iced food in a radio box, after a while, parts of it start to turn to water. But since radio boxes are really good at heating water, those parts start to get hot really fast. They can even get so hot they start turning to air — before all the ice is even gone!"
2. The Sympathizer by Viet Thanh Nguyen
Image credit: Amazon
Bill Gates recommended The Sympathizer in his 2017 book recommendations. This book won the 2015 Pulitzer Prize. The novel is about a Vietnamese main character that lives as a double agent in Los Angeles. He is actually a spy for the North Vietnamese government. The main character learns the harsh lessons about his fellow citizens after he embeds himself in a refugee community.
1. The Idea Factory: Bell Labs and the Great Age of American Innovation by Jon Gertner
Image credit: Amazon
The book is about country's most ingenious and greatest inventions of the century, which includes long distance TV transmission, the fax machine, and cell phone technology's introduction. "Whatever incredibly advanced devices come out of the digital age probably got their start somewhere inside Bell Labs,"  Zuckerberg said.
Comments
comments
This Game Will Change Your Perspective Of Strategy Decision Based Gaming Forever!
Sid Meier's Civilization VI needs little introduction, but let me give you one anyway. The game takes you to the start of civilization and lets you choose between 5 empires giving you starting advantages and leaving you in the multiplayer setup, letting you make the decisions yourself and allowing you to advance from the stone age to the age of information, giving you the option of achieving world domination in any way that pleases you; may it be through establishing diplomatic relations, blowing the other civilizations to bit, or making it to the moon before anyone else does.
In short, Sid Meier's Civilization is the kind of game that keeps you up at nights and its latest version is out and on sale on Born Realist Shop. So, there are five ways to achieve victory in Sid Meier's Civilization IV. Which will you choose?
image credits: Born Realist Shop
Civilization VI is the Winner of 15 E3 Awards, including Best PC Game and Best Strategy Game and has around 35 million units worldwide since its creation, creating a huge community of players attempting to build an empire to stand the test of time, are you a civilization veteran? Or maybe you're a beginner, either way, the game is both strategically challenging and easy enough to interact with and will be entertaining in any case! You can even interact with your friends or compete against them making this that perfect multiplayer you've been looking for.
The best thing is that Sid Meier's Civilization VI is available at a special discount on Born Realist Shop! So are you ready to play the most immersive and challenging game of your life? Get Sid Meier Civilization VI today! You can buy it here!
Comments
comments
Cloud Storage Made Ten Times Cheaper With Zoolz: Cloud Storage!
Let's be real here, cloud storage can be pricey whatever the bargain, and the cloud company ends up taking more from you than you would have wanted! And so, that's why getting Zoolz cloud storage is the smarter option. Zoolz, looking after you, is offering an excellent solution by giving you TWO TB of storage for life by letting you access 1TB on your instant vault on a daily basis and allowing you to set aside the information you don't require every day in your 1TB of cold storage! Making cloud back-up so much more economical than it would have been without Zoolz!
image credits: Born Realist Shop
Zoolz has won its own fair share of awards getting an amazing 4.5/5 Stars, Reviewster and being Named the Number 1 Best Business Cloud Storage Service by TopTenReviews, making it the best cloud storage backup option for you (plus no additional charges after you've paid the real price!)
image credits: Born Realist Shop
But the best part is that you can get this storage basically for free on Born Realist Shop with our supreme discount! So, want to get this massive amount of cloud storage on a bargain? Get going to Born Realist Shop now! You can buy it here!
Comments
comments